After dealing with the possibilty of a brain tumor in 2013, a severe tremor developed in my right hand. I thought my career was over. In 2016, once I made the decision to overcome this huge obstacle, I started practicing with my Left Hand. And it is now time to celebrate my NEW NORMAL and allow myself to think of the FUTURE … which to me, is a priviledge.
No one knows what this brain lesion will do, but the future is now, and i am ready to finally create a body of work (with a left perspective). After so many of these images were thrown to the floor in frustration, anger and sadness, thinking i would never paint again, it is now my opportunity to represent their beauty, and my left hand is up to the task.
The paintings are all dedicated to Stu … who encouraged me to open up THE file.
Click thumbnail to enlarge each image
— Carol Currie
---
Due to a severe Right Hand Tremor, I was forced to switch to the left hand for painting my detailed landscape works. The tremor started in October 2016 and is progressing to date (2019).
Click thumbnail to enlarge each image
— Carol Currie
---
Whalen ISLAND, Cognashene, ON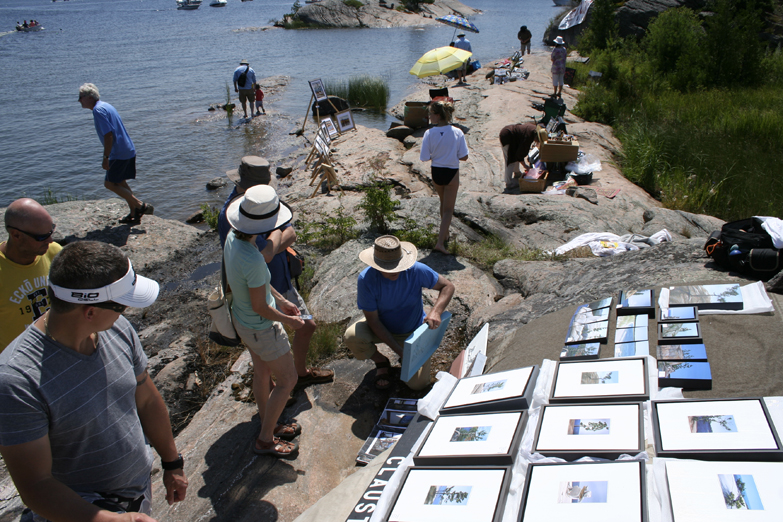 July 29, 2018, 11-4:30
— Carol Currie
---
— Carol Currie
---
So, this is the latest attempt from my LEFT HAND in direct comparison to my RIGHT HAND work. After nearly 9 months of practice.
This was a commission from someone who saw my old right hand works from 2009, but rather than purchasing a print, he asked for an original.
Having no use of my right hand due to a severe tremor, I took on the challenge to see if I could replicate the piece with the left hand, and give the hand and brain more training.
The left hand still takes up alot of energy so most days i can only paint an hour or two without exhaustion. But that's an improvement from 6 months ago, where a half hour was all i could do.
I think this is encouraging.
Click thumbnail to enlarge each image
— Carol Currie
---